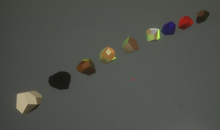 Ores can be obtained from the Mine, and used in Smelting to turn them into ingots. There are 7 ores in total, one fore each respective ingot, as well as stone and coal. Stone currently has no known use while Coal can be used as fuel for smelting.
Ad blocker interference detected!
Wikia is a free-to-use site that makes money from advertising. We have a modified experience for viewers using ad blockers

Wikia is not accessible if you've made further modifications. Remove the custom ad blocker rule(s) and the page will load as expected.